Every month, the Whitehouse food and nutrition policy team brings you the latest policy and regulatory developments, helping you understand and shape the future of sustainable food systems. You can subscribe to our newsletter here to get exclusive insights directly into your inbox.
In addition, below you can find some of the top stories that caught our attention this month:
UK Government delays introduction of restrictions on promotions (volume) and advertising of foods high in fat, salt and sugar (HFSS)
No. 10 announced a delay in the introduction of restrictions on multibuy deals and advertising of HFSS, which are now set to apply from October 2023 and January 2024 respectively. The move is seen as a U-turn from the UK Government to appease some Tory backbencher MPs that have been widely critical of the measures. The reason argued by the Government however is that the decision aims to support British consumers with their food bills considering the unprecedented global economic situation. The move may also have been influenced by Kellogg's legal challenge against the restrictions, and fear that other food giants may follow.
The decision has been criticised by public health bodies such as the British Heart Foundation,  Diabetes UK and Cancer Research UK. A letter to the Prime Minister coordinated by Chef Jamie Oliver and signed by numerous public health organisations calls on Boris Johnson to reconsider the decision in order to "protect the next generation from diet-related disease". The move is supposed to be a temporary delay, but it could open the door to a scrap of the restrictions altogether.
Meanwhile, location restrictions (impacting where HFSS products can be placed in supermarkets and shops), are still set to apply from October 2022. But controversy surrounds these restrictions as well. In April, the Department for Health and Social Care (DHSC) published implementation guidelines that have been criticised as unclear and ambiguous by industry. As an example, the definition of the confectionery food category mentions that "products that have features and ingredients that indicate they are a type of confectionery will be determined on a case-by-case basis" but no clarity has been given on what those ingredients and features may be.  Industry is thus in the process of discussing these guidelines with trading standards and their primary authorities' which are in turn seeking further clarity from DHSC.
Policymakers attempt to address sunflower scarcity as industry calls for labelling flexibility 
As the war in Ukraine ensues, inflationary pressures and food scarcity concerns soar across Europe. The Food and Agriculture Organisation confirmed that world food prices are extremely high (albeit a bit lower than the record set in March 2022) and one of four Britons have resorted to skipping meals due to high prices.
Next to scarcity of wheat and corn, a big concern is sunflower oil shortages. Industry is reporting risks to disruption of the food supply chain for this product, which they warn could potentially run out in a matter of weeks. In the UK, the Food Standards Agency (FSA) provided guidance and is advising that some food products may now contain fully refined palm oil, fully refined coconut oil, and fully refined soybean oil without changes to the label being immediately required. This follows similar advice on refined rapeseed oil issued in March. FSA's Chief Executive however stressed that "any inaccuracies in labelling must only be temporary" and encouraged industry to use healthier and more sustainable oils if substituting their ingredients.
In the EU, national agencies in some Member States have issued a range of guidance to allow flexibility. For example, French authorities indicated they will authorise derogations to food labelling requirements, except for essential information, for two months. FoodDrinkEurope (representing the European food and drink industry) had previously called for EU-wide harmonised flexibility in food labelling and official controls to help companies deal with the current situation. The organisation also cooperated with EuroCommerce, Copa-Cogeca and Celcaa on a statement emphasising that processors and retailers/wholesalers need help to find practical and flexible labelling solutions.
The EU requires the type of oil used in each food product to be indicated, but there is no EU-wide guidance on whether industry is allowed to substitute sunflower oils with other oils without having to change their labels while the crisis lasts. In response to a parliamentary question by Belgian MEP Tom Vendenkendelaere (EPP), Health and Food Safety Commissioner Stella Kyriakides highlighted that the Commission plans to facilitate exchanges of information and best practice among the national competent authorities through regular meetings and a dedicated communication channel.
To help the situation, European policymakers have adopted measures to temporarily lift import duties on Ukrainian goods. The European Parliament and Council have both voted in favour and the measures will now be published in the Official Journal, after which they will enter into force.
Industry denounces lack of clarity from scientists on front-of-pack nutrition labelling (FOPNL) and nutrient profiles
Since the European Food Safety Authority (EFSA) published its scientific advice on nutrient profiles and FOPNL on 19th April, stakeholders have accused the agency of avoiding giving clear recommendations, and disagree on how to interpret their opinion.
Federalimentare, who represents the Italian food and beverage industry and is an active opponent of Nutri-Score, has claimed that EFSA's opinion implicitly rejects the scheme, as it focuses on the nutritional profile of the entire diet instead of individual food products. The European Consumer Organisation (BEUC) however argued that the opinion "in no way rejects the Nutri-Score" and emphasised that it was not within the scope of EFSA's mandate to make recommendations on specific FOPNL schemes, but only to deliver broader scientific advice on nutrient profiling.
FarmEurope, a think tank that aims to stimulate thinking on rural economies, published a statement on 6th May in which it remarked that "methods relying on algorithms and thresholds are, by definition, biased. In fact, depending on where the threshold is set, or how the algorithm is composed, then the overall assessment of the food will change. In addition, regardless of the chosen methodology, a criterion that takes into account the level of processing of food should be inserted, so to consider the effects of the processing on overall health".
The Commission's proposal to introduce an EU harmonised, mandatory FOPNL scheme and nutrient profiles clearly remains controversial. The Czech Republic is about to take over EU Council Presidency and will therefore be at the helm of the Agriculture and Fisheries Council until the European Commission presents its proposal by the end of this year. Interestingly, while France (which holds the current presidency) backs Nutri-Score, Czech agriculture minister Zdeněk Nekula indicated strong criticism. Heated debates and disagreements between policymakers and industry remain, so it is likely that this dossier will be delayed. It also remains to be seen whether the proposal will finally introduce a mandatory or voluntary scheme.
The race to the new genomic techniques kicks off – but will the Commission be held back by diverging views across stakeholders?
On 29th April, the European Commission launched a public consultation on a legal framework for plants produced by certain genomic techniques. This initiative, which is open until 22nd July, proposes a new legislation for plants obtained by targeted mutagenesis and cisgenesis and for their food and feed products. The aim of the proposed legislation is to maintain a high-level of protection for human and animal health and the environment, while enabling innovation in the agri-food system and contributing to the goals of the European Green Deal and Farm to Fork Strategy. "Plants obtained with new genomic techniques (NGTs) could help build a more resilient and sustainable agri-food system," commented Health and Food Safety Commissioner Stella Kyriakides.
In a new factsheet, the Commission explained they could be used to develop drought-tolerant rice, high protein wheat, and fungus-resistant tomatoes. In parallel, EFSA is running a consultation on a draft updated scientific opinion on plants developed through cisgenesis and intragenesis, which will inform the Commission's plans.
The initiative is based on the findings of the European Commission's study published in April 2021, which indicated that NGTs should be regulated differently than classic genetically modified organisms (GMO) (under which they are currently regulated). However, as evidenced by the number of responses (70,894!) to the Commission inception impact assessment consultation, which ran from 24th September to 22nd October last year, this topic will likely trigger many debates across Member States and among stakeholders.
The EU currently has some of the strictest rules in the world when it comes to researching and growing engineered crops, and this move to liberalise the rules indicates a will within the Commission to avoid being left behind. However, the Commission's ambitions may be watered down by diverging opinions across stakeholders.
An immediate response was seen in a petition against the deregulation of new GMOs, launched by a coalition of more than 40 agricultural, environmental and citizen organisations from more than 15 EU countries. They called for all genetically modified crops, including gene-edited crops, to remain strictly regulated and labelled in the EU. In addition, the European non-GMO Industry Association (ENGA), is calling upon the Non-GMO business sector to stand up for its business interests and participate in the consultation, pointing out that the questionnaire makes a number of false claims.
Meanwhile, the UK government published a Genetic Technology (Precision Breeding) Bill, as announced in the Queen's Speech on 20th May, to diverge from existing EU rules in a bid to champion these techniques. This is likely to be a further incentive for the EU to liberalise its rules to avoid the UK having a competitive advantage. Who will eventually come out on top?
European Parliament and Council scrutinise deforestation-free imports proposal  
Following the publication of the Commission's proposal on the Regulation on deforestation in November 2021, the European Parliament and Council are discussing amendments to the draft. The proposal sets out a plan to ban imports of certain commodities linked to deforestation and ensure that any product bought in Europe has not contributed to deforestation anywhere around the globe.
Last week, the European Parliament Committee on International Trade (INTA) adopted its associate committee report, which will strongly influence the report of the Environment, Public Health and Food Safety (ENVI) Committee, which is the lead Committee in the Parliament for this dossier. Opinion rapporteur MEP Karin Karlsbro (Renew, Sweden), stressed that "international trade is our most powerful tool for climate policy. That requires a great responsibility to stay away from green protectionism. It is essential that we are working with our trading partners outside the union, not against them."
The ENVI committee is still deliberating its draft report under the lead of Christophe Hansen (EPP, Luxembourg. MEPs tabled a staggering number of amendments (99-234, 235-554, 555-877, 878-898, 899-1055) in April, which are being assessed and condensed for future discussions.
It is worth noting that ENVI shadow rapporteur for the Renew Europe group, MEP Chrysoula Zacharopoulou, is changing roles and joining the French government and therefore the political group is looking to appoint a new shadow rapporteur to coordinate its position. Ms Zacharopoulo has been one of the more active voices in the committee, having previously highlighted the need to target more commodities, apply the provisions to other natural ecosystems, and increase cooperation with producing countries. The European Parliament plenary is likely to vote on this report by September 2022.
While the European Parliament has been pro-active and quite ambitious, the Council of the EU has been more cautious prioritising the enforceability of the proposal (a general dynamic between the Parliament and the council seen across many different dossiers). A steering note prepared by the French Presidency called for due diligence obligations that require businesses to police their supply chain against deforestation to be "well framed" and "enforceable". The note expresses concerns that the Commission's proposal will create administrative burdens for companies or even duplications, and calls for proportionate measures. The Environment Council is set to adopt an opinion during its next meeting on 28th June, and the Agriculture Council is also continuing discussions on the issue. Meanwhile, stakeholders are gearing up to provide their views.
All you need to know about the Sustainable EU Food System Initiative
Transitioning to more sustainable food systems is a key objective of the Farm to Fork Strategy and the European Commission's wider climate neutrality agenda. To ensure that sustainability considerations are integrated into all forthcoming food-related policies, the European Commission is currently working on a brand-new initiative on a Sustainable EU Food System. As perhaps the most far-reaching new food sustainability proposal, the Sustainable Food System Initiative will have a substantial impact on stakeholders along the entire food supply chain.
Whitehouse's fact sheet looks at the cornerstones of the new policy, and sheds light on its anticipated impact on the food sector. A snapshot can be found below, and find the full document here. The deadline for stakeholders to provide their views to this initiative is 21st July 2022.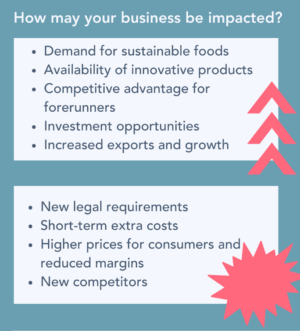 Want to continue the conversation on how organisations can effectively engage in initiatives as outlined above? Please contact our team via andrea.solana@whitehousecomms.com.
Want to be kept up to date with monthly updates? Subscribe to our newsletter here.
More from Whitehouse on food and nutrition here.