The Urology Trade Association (UTA) and The Urology Foundation (TUF) recently hosted a joint Parliamentary reception, based around the theme of working together to support innovation in the medtech sector.
Below are four key takeaways and learnings from the reception, after policymakers, patients, clinicians, and industry came together to discuss how best to promote patient choice and better patient outcomes, and to guarantee an innovative and sustainable future for the urology sector.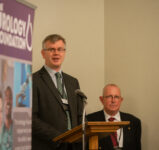 Chris Stirling [L] of the Med Tech Directorate with Chris Whitehouse
1. Incontinence is an issue that will impact many
Incontinence can have a devastating impact on the quality of a person's life. TUF outlined that 1 in 2 individuals will be at some point suffer from a urological condition at some point in our lives. In essence, 50% of people face the prospect of being diagnosed or treated for bladder, prostate, kidney cancer, cystitis, and/or incontinence – all of which are likely to have a significant impact on an individual's mental, emotional, social, physical, and sexual well-being.
Looking at the UK population base, it is estimated that 6 million people – on average over 9,000 in each parliamentary constituency – are affected by continence problems with many relying on urology appliances every day allowing them independence and avoiding repeated medical consultation. The potential impact incontinence has on individuals, clinicians, the NHS, and Government needs to be taken seriously.
2. Medtech: finally getting the attention it requires 
The creation of the MedTech Directorate is finally putting medtech on a closer footing to its medicines counterpart. The medicines system has for many years had well established strategies, processes, and functions in place. However, medtech been the poorer relation – it has had nowhere near as much focus as it deserves. Nonetheless, whilst there is a lot we can learn from the medicines market, it is fundamentally different to the medtech sector e.g., in terms of barriers to entry, so we must be careful about drawing too many comparisons and parallels.
Within the medtech sector, the emphasis has historically been on the high-end medical products. However, if the events of last few years e.g., Brexit and COVID-19 have taught us anything, it's that the less high-end, simple, relatively small, and less "sexy" medical products are extremely valuable to patient life, choice, and outcomes. They must be championed and more must be done to facilitate access to such products.
3. Big discussion to be had on 'choice'
For the Directorate, it seems their view is that choice is certainly important, but we cannot have choice at all costs. The view is that excessive choice is not always helpful, and that industry, patients, clinicians, and government need to get away from the view that more choice is better in every situation. Rather, we need to focus on facilitating better-informed choices for clinicians and patients.
There is no denying that tools such as Part IX of the Drug Tariff are essential in offering the right choice to patients and clinicians, and it is a tool that will continue to be used moving forward. However, when looking at choice, we need make it easier for patients and clinicians – removing the thousands of products that haven't even been prescribed for a significant period and ensuring that patients and clinicians are educated and provided up to date information on the options available to them.
4. Patient choice and involvement are critical
The argument has been made on numerous occasions that the NHS and government must consider whole system costs, rather than just looking at the costs of individual products at point of purchase. In the urology sector, saving pence on catheters might lead to hundreds and thousands of pounds of costs to the NHS budget, should a patient be given an inappropriate product, or get a urinary tract infection. Cost needs to be looked at proportionately, and to reflect the importance of securing a higher quality of life.
To avoid mistakes such as this being made, patient involvement is crucial. When it comes to the MedTech Directorate's upcoming strategy, it is vital that it continues to speak with industry, representative patient groups, and the patients directly too. The end users' voice is extremely important, as patients are the only ones who can truly assess the impact a medical device will have on their quality of life. If we are really to improve patient outcomes, patients need to be involved. Joint decision making is imperative.
This article first appeared in MedTech Innovation Magazine.
Political consultancy
The Whitehouse team are expert political consultants providing public relations and public affairs advice and political analysis to a wide range of healthcare and social care clients, not only in the United Kingdom, but also across the member states of the European Union and beyond. For more information, please contact our Chair, Chris Whitehouse, at chris.whitehouse@whitehousecomms.com.
More on MedTech can be found here.