With the UK playing host to the United Nations Climate Change Conference (COP26) until 12th November, Whitehouse Communications is bringing you a round-up of the headline stories from the Conference in their 'Countdown to COP26' blog series. This installment looks at the opening days of COP26 and examines what to expect from the rest of the summit.
After a year's delay, all eyes finally turned to Glasgow over the weekend for the start of the 2021 United Nations Climate Change Conference, which brings together delegates from more than 190 countries to discuss and agree on global climate action. The landmark summit has been hailed as a "make or break" moment for countries to agree to limit global warming to 1.5C and to submit their own actions plans (or nationally determined contributions) to set out how they will achieve this.
Yesterday's launch featured two of the most recognisable faces of the climate movement, Sir David Attenborough and Swedish youth activist Greta Thunberg. Whilst Sir David took the opportunity to urge delegates inside the exhibition hall to "turn tragedy into triumph", Greta, who has an official pass to COP26, told fellow protestors outside that politicians are "pretending to take our future seriously".
Making reference to Greta's ridicule of politicians, Prime Minister Boris Johnson told world leaders that "we mustn't fluff our lines or miss our cue because if we fail, they will not forgive us". Other speakers, including those from island nations hardest hit by climate change, spoke of the frightening reality these nations face if urgent action isn't taken. In a calm yet defiant tone, the young Samoan climate activist Brianna Fruean told world leaders, "we are not drowning, we are fighting".
Day one wasn't just full of impassioned speeches; it also produced a number of crucial commitments. President of the United States Joe Biden promised to publish a long-term climate strategy for the US and 100 leaders pledged to end deforestation. Prime Minister of India Narendra Modi also promised to cut India's emissions to net zero by 2070, which was seen as a positive announcement, despite falling short of the Summit's target by two decades.
But Modi said India could not achieve this on its own and called on richer countries to provide a trillion dollars of finance to support climate adaptation by poorer countries. Throughout the Conference, the world will be looking not just at each country's domestic commitments, but also at the commitments made by countries such as China, the US and indeed the UK to ensure that no one is left behind.
Will the next ten days bring us any closer to a climate finance deal or firm commitments from the world's biggest emitter of greenhouse gases? Only time will tell – and time is ticking.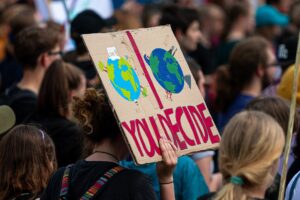 Political Consultancy
The Whitehouse team are expert political consultants providing public relations and public affairs advice and political analysis to a wide range of clients, not only in the United Kingdom, but also across the member states of the European Union and beyond. For more information, please contact our Chair, Chris Whitehouse, at chris.whitehouse@whitehousecomms.com.