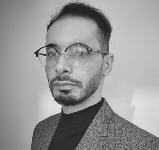 Sadek Z.
Account Manager
+44 (0)20 3855 5760
Sadek is an Account Manager, supporting the media and public relations team to deliver bespoke communication strategies across the health, nutrition and technology sectors.
Previously, Sadek worked as a media coordinator at the European Parliament, where he advised British MEPs in strategic communications and media engagement at the height of the Brexit negotiations.
As a multimedia journalist, Sadek worked at a Middle East-focused online publisher in London, where he spent three years covering political developments and social trends in the region and amongst its diasporas. He has also spent time in the Middle East, volunteering with a United Nations association working in humanitarian development.
Outside of the office, Sadek enjoys drinking Moroccan tea, listening to Arabic poetry and trips to the theatre.