The award-winning agency is inviting applications from third sector organisations interested in political communications consulting and support.
Whitehouse Communications is an issues-led communications agency with decades of experience in public affairs, PR and media relations, with much of this in charity PR and communications. It supports long-term business and policy objectives and runs high-profile campaigns for clients in the private, public and charitable sectors that influence public opinion, policy, legislation and regulations, and builds support among key opinion formers and decision makers in Westminster, Brussels and beyond.
As part of its long tradition and ongoing commitment to delivering positive and lasting change, Whitehouse Communications has relaunched its pro bono scheme in 2023. The programme offers organisations aiming to make a real impact in our communities the opportunity to contribute to the development of political policy and influence the national conversation.
The successful organisation will benefit from three months of support from the consultancy, helping them to push forward their policy objectives via a fixed-term project that can include any of: a parliamentary reception; a series of one-on-one meetings and a roundtable/panel event (Westminster/Brussels/devolved nations); media training and identifying speaking opportunities; a public awareness campaign; or a policy audit report.
Candidate organisations will be considered on the following criteria:
Dynamism of the organisation, its application and general approach
Desire for achieving change in public policy and a reasonable understanding of this environment
Clarity and focus of the organisations' aims and objectives for a public affairs campaign
Willingness and ability of the organisation to invest time and own resources to a public affairs campaign
Current level of statutory funding
The degree to which the work of the organisation reflects the ideals and values of our company and our team
Organisations interested in applying for the pro bono scheme should complete the application form by no later than 6th October.
Shortlisted applicants will be expected to meet with members of the Whitehouse team prior to a final decision being made.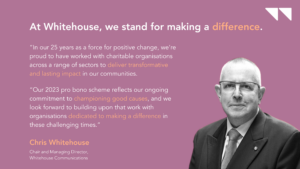 For more information about Whitehouse's pro bono scheme, please contact the team at info@whitehousecomms.com.
Campaign toolkit
Whitehouse Communications is no stranger to tackling big issues, particularly when it comes to promoting international development and human rights. We're proud to work alongside major human rights organisations, All-Party Parliamentary Groups and the UK Parliaments' Joint Committee on Human Rights to secure attention on important issues affecting people around the world.
To learn more about how we can support your organisation achieve its goals, check out our free campaign toolkit, accessible here.
Political c
onsultancy
The Whitehouse team are expert political consultants providing public relations and public affairs advice and political analysis to a wide range of clients, not only in the United Kingdom, but also across the member states of the European Union and beyond. For more information, please contact our Chair, Chris Whitehouse, at chris.whitehouse@whitehousecomms.com.