The Precursor to the EU Russian gas problem

Before Russia's invasion of Ukraine on 24th February, many European leaders put their full trust in the supposedly mighty force of trade as a tool for (political) change. This led to Russian energy trading agreements being signed one after the other, making Russia the continent's by far largest gas supplier, accounting for 40% of the total supply.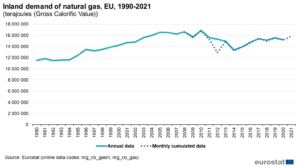 The serious repercussions of Europe's longstanding dependence on Russian raw materials are now painfully perceptible throughout all layers of Europe's economy and society, driven by rising oil prices and knock-on effects on consumers' energy bills.
Now that Russia has started to cut back on its gas supply, the European Union and its Member States are working hard to adopt new measures to deal with expected gas shortages and prevent millions of Europeans from freezing in winter.  Especially Germany, the country with the highest dependencies on Russian gas in Europe, is fearing a gas disaster this winter. But what is happening on the other side of the Channel? The UK seems to find itself in a rather comfortable position, given that it only imports marginal amounts of gas from Russia.
Proposed EU Regulation – Save gas for a safe winter?
On 20th July, the European Commission proposed its "Save Gas for a Safe Winter" Regulation, a gas demand reduction plan to prepare the EU for further supply cuts. The package seeks to prepare Europeans for how Commission President Ursula von der Leyen put it, the "worst situation", a full cut from Russian gas.
At the heart of the proposal is a 15% demand reduction target for the Member States between 1st August 2022 and 31st March 2023. Although voluntary in nature, the measures will become binding in case of a "Union Alert" on the security of supply, which can be triggered in case of a substantial risk of a severe gas shortage or an exceptionally high gas demand. The new measure followed the EU's decision at the beginning of June to impose a partial embargo on Russian crude oil that arrives by sea (which represents around two-thirds of imports) by the end of this year.
Such an EU-level gas master plan was much needed. Since the start of the war, 12 EU countries have suffered total or partial interruptions of gas supplies by Russia. While the overwhelming majority of EU Member States have backed the proposal, some freeriding took place by all-time EU problem child Hungary. In mid-July, Hungarian Minister of Foreign Affairs and Trade Péter Szijjártó met with his Russian counterpart to negotiate a bi-lateral deal to buy more, not less, natural gas from Russia. To make matters worse, Hungary also announced a state of emergency of the energy sector, a prerequisite to prevent gas from being exported to other European countries.
Jittering Germany and their gas emergency plan
Further West, Gazprom's announcement at the end of July to drastically cut the gas flows into Germany via Nord Stream 1, allegedly due to a technical issue with a turbine, made the German government jitter. Although Germany already cut its gas imports by 50% since the Russian invasion, Europe's economic powerhouse remains highly vulnerable to sudden gas supply cuts. So did the gas price, which rose by 2% following Gazprom's announcement. Germany now fears that it will be unable to fill its gas storage capacities ahead of the next winter, which, at current levels, will only be sufficient for the next one to two months.
The quickest way to stretch out the remaining capacities is to save gas. At the beginning of July, the Bundestag passed a law to turn off hot water in its own offices and keep air temperature at no higher than 20 Celsius in winter. The private sector has announced similar measures. For instance, consumer chemicals group Henkel is now considering returning to working from home to save energy in the national interest.
Despite these measures, the German government is facing criticism over its refusal to introduce tougher and more binding measures on energy saving. This criticism was fuelled by Spain's recent decision to adopt an energy-saving decree, which ordered all businesses to limit their temperatures and shops and public buildings to turn their lights off from 10 p.m. in an attempt to reduce gas consumption by 7%.
Meanwhile, Chancellor Scholz visited the allegedly faulty gas turbine on 3rd August, concluding that contrarily to Russia's claims, the turbine was ready to be employed, sending the powerful signal that Germany cannot be led astray by Putin's bluff.
UK's keeping cool
On the other side of the Channel, the United Kingdom is keeping a relatively cool head regarding its gas imports from Russia and looming gas shortages. The UK imports 77% of its gas from Norway and imports only 4% from Russia, putting the country in a relatively comfortable position from a security of supply perspective.
However, with global gas markets undergoing stress, the UK will be affected by soaring gas prices just like any other country. While oil and gas conglomerates such as BP and Shell are making record profits, experts are already warning that consumers' energy bills could reach more than £3,600 per year this winter, which is likely to exacerbate the current cost-of-living crisis.
Nevertheless, the UK has shown (unusual) signs of solidarity with the EU Member States by maximising its gas exports to Europe's mainland.
No silver bullets
While cutting gas demand can help reduce dependencies in the short run, regulators are aware that cutting back on consumption won't be the silver bullet to solve Europe's looming gas shortages.
Therefore, the European Union and its Member States continue to draft and implement legislative measures designed to diversify supply, increase energy efficiency and, importantly, accelerate the transition towards renewable sources of energy to make Europe's import of raw materials obsolete. Files such as the REPowerEU Plan to raise the EU's renewable energy target to 45% by 2030, and new product-specific obligations on energy efficiency, labelling and ecodesign for household items such as for tumble dryers or vacuum cleaners will be interesting initiatives to watch. Organisations with an interest in shaping the future of the EU's clean and independent energy policy will have plenty of opportunities to lobby and influence these files in the months and years ahead.
Political consultancy
The Whitehouse Communications team are experts in providing public affairs advice and political analysis to a wide range of clients who seek to engage on climate and sustainability policy with policymakers in the EU institutions, but also with the member states of the European Union and beyond. For more information, please contact Viviana Spaghetti, at viviana.spaghetti@whitehousecomms.com