The Whitehouse Consultancy will host a webinar discussion on "Trending in textiles – will new legislation in the UK and the EU bring human rights to the catwalk?" on 22nd March at 12.30pm (GMT) in which experts will discuss the fashion industry's complicity in global human rights violations and what policies can be implemented to separate the two.
Expert speakers will include Dr Lisa Cameron MP, fierce sustainability campaigner and chair of the All-Party Parliamentary Group on Textiles and Fashion, Paola Masperi, founder of ethical fashion brand Mayamiko, Clare Lissaman, Director of Common Objective and Dr Mark Sumner, lecturer in fashion sustainability at the University of Leeds.
We would be delighted if you were able to join us for this exclusive discussion about whether new legislation in the UK and the EU will accelerate the fashion industry's push for more sustainable supply chains. We are able to schedule interviews for you with several of our established speakers should that be of interest.
Sign up here: https://zoom.us/webinar/register/WN_dzQ-exchSDeTFEynnZhfZg

We are also very happy to send over a summary of the discussion soon after the event should you be interested in attending but unable to. 
Why is this webinar topic important today?
The COVID-19 pandemic brought back into the limelight some of the longstanding issues in fashion's value chain. From global garment retailers like H&M and Zara being accused of using the pandemic to target thousands of unionised factory workers for dismissal in developing countries, to UK retailer Boohoo facing a modern slavery investigation after reports that its workers in Leicester earned as little as £3.50 an hour, the industry has not yet tackled the same problems that first gained global traction after the 2013 Rana Plaza accident in Bangladesh.

Since then, several industry-led commitments and certification procedures on corporate social responsibility (CSR) have generated a level of complexity and fragmentation in the way fashion's value chain is assessed on its human rights and environmental compliance.

To address this, the European Union will be bringing out new legislation in 2021 that will introduce compulsory due diligence rules for the protection of human rights and the environment in the supply chains of companies that access the European market. The legislation will include liability and enforcement mechanisms, as well as access to remedy provisions for victims of corporate abuse. With nearly 75% of British textile exports heading into the EU, British producers will need to adapt to the EU's new rules.

In the UK, Lords have voted to ensure any newly signed trade agreements comply with the UK's human rights and international obligations, under Amendment 2B to the Trade Bill. The House of Lords also voted on the inclusion of a Genocide Amendment to the text, which would have enabled the UK to boycott any country actively perpetrating genocide, including those prevalent within the fashion supply chain. MPs will soon vote again on this important amendment.

Make sure you register for the webinar here: https://zoom.us/webinar/register/WN_dzQ-exchSDeTFEynnZhfZg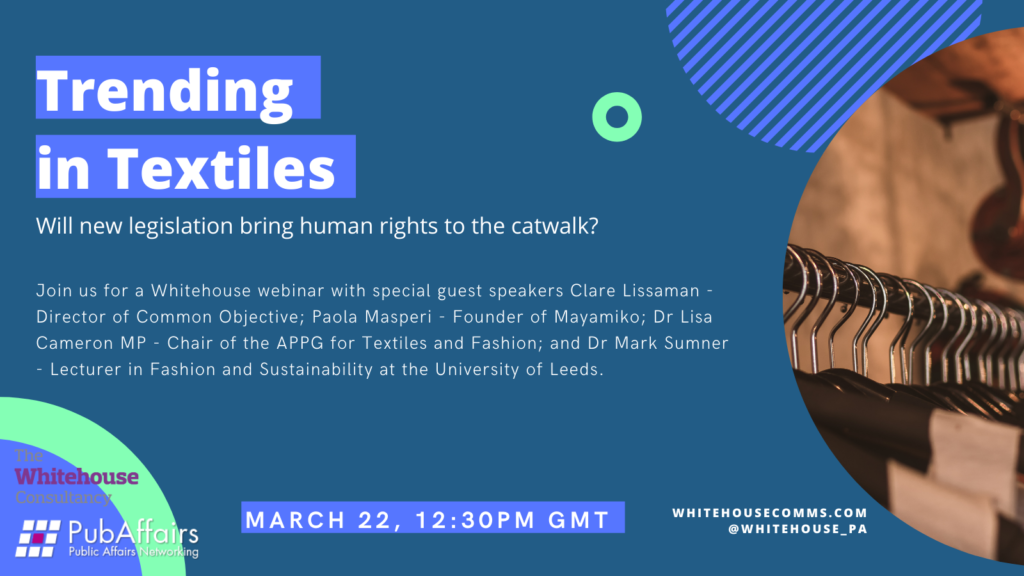 Political Consultancy
The Whitehouse team are expert political consultants providing public relations and public affairs advice and political analysis to a wide range of clients, not only in the United Kingdom, but also across the Member States of the European Union and beyond. We work in a number of sectors including human rights, the environment and equalities. For more information, please contact our Chair, Chris Whitehouse, at chris.whitehouse@whitehousecomms.com.