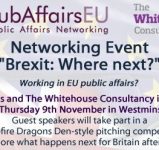 The Whitehouse Consultancy and PubAffairs EU will be hosting a Brexit-themed Dragon's Den pitching competition on Thursday 9 November in Westminster.
The event will explore ideas presented by commentators and business experts on how Britain's future relationship with Europe and the world could look like after Brexit. Our expert "Dragons" will evaluate the pitches.
Speakers include:
Hugo Dixon, Editor-in-Chief, InFacts
William Bain, EU and International Policy Adviser, British Retail Consortium
Timothy Stafford, Research Director, Henry Jackson Society
Craig Beaumont, Head of External Affairs UK, Federation of Small Businesses
Helen Munro, Managing Director, The Whitehouse Consultancy
The panel will be followed by a networking reception. Refreshments will be provided.
Places are limited and registration is on a first come first served basis. A guest list will be in operation on the door, so to avoid disappointment please register asap by clicking here to RSVP. When registering, please be sure to include your job title and organisation. All registrations will be confirmed by email.
Please register before close of play on Wednesday 8th November.
The Whitehouse Consultancy Team is looking forward to welcoming you at the event.