Last week, the Department of Health put on a strong show of force at its "Next Steps for STPs" breakfast hosted by The King's Fund. Our team of healthcare consultants joined around 150 representatives from the healthcare sector, with The King's Fund Chief Chris Ham delaying his holiday in order to host Simon Stevens, the Secretary of State, and two of Jeremy Hunt's Health ministers.
The morning was presented as a progress report for STPs, with Stevens announcing the recipients of the first tranche of capital funding. Ultimately, it played out as an exercise in promotion for leading footprints' transformation plans, with a collection of celebrated STP leaders telling the audience where they've gone right over the past year. The audience was enthused: this was the greatest show of sector support for STPs witnessed to date.
The event also foreshadowed the release of the STP dashboard last Friday, which has ranked the performance of each of the 44 areas. While the Department has provided a particularly detailed and informative progress report, the dashboard leaves a number of unanswered questions, and fails to provide a genuine 'system-wide' measurement of quality healthcare across the UK.
Leading the way
The STP Progress Dashboard provides a clear indication of how the Department of Health rates progress in each of the 44 footprints, and has also given us a better understanding of precise clinical and non-clinical priorities for the health service at the mid-point of the Five Year Forward View.
First of all, DH has certainly followed through on a promise to 'reward success': all 15 STPs taking a share from the £325 million capital transformation pot announced by the Chancellor in March have been ranked as "outstanding" or "advanced" for their overall performance.
Leadership has been identified as an overriding priority for regional health structures. The dashboard ranks the "system-wide leadership" of each STP into four categories, and all 16 footprint areas achieving the highest rating for leadership have been rewarded with overall progress scores of "outstanding" or "advanced". While STP leaders may not have been aware the extent to which they were being personally assessed during their conversations with NHSE and NHSI, the Department has now made it abundantly clear that funding will not become available until strong leadership is in place. This inextricable link is detailed in the chart below: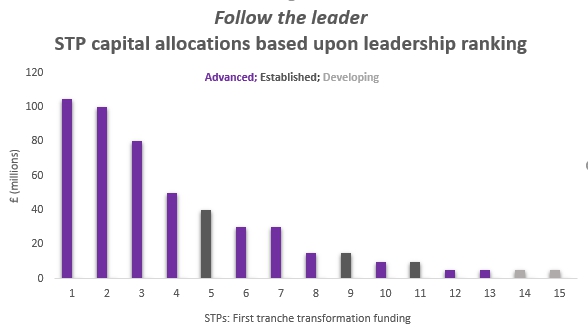 Acute focus
Every STP emphasises the importance of shifting care into the community, but the message from the centre is to first get our hospitals in order. "Hospital Performance" is just one of three overarching performance categories on the dashboard, but at least 10 of the 17 indicators underneath measure the quality and timeliness of activity delivered in secondary care.
They do include some important measures for system-wide integration. Healthcare leaders will be encouraged to see a focus on Delayed Transfers of Care and the rate of emergency admissions given the close relationship these standards have to the quality and availability of primary and social care. Evidence of the Government's commitment to improving mental health services will also be welcomed, with early access to psychotherapy impacting STPs' overall rankings.
Where's primary care?
A strong focus on the acute sector is highlighted by the list of schemes awarded priority capital funding last week. The first £325 million tranche of funds for capital transformation is predominantly directed towards hospital reconfigurations, and doesn't really scratch the surface of plans to build community hubs across the country. The Department of Health has indicated that only one of the four largest recipients of capital funding – West, North and East Cumbria – is likely to allocate any of its spending towards integrated care hubs.
Moreover, GP leaders are likely to be unhappy that only 2 of the 17 performance indicators are specific measures for general practice, and disappointed that both focus on extended access. The new Minister for Primary Care, Steve Brine, is certain to be queried by family doctors who feel they are being asked to do more with less. The Government's preoccupation with extending surgery opening times without offering adequate resources to staff additional working hours creates further pressure in the system.
While it is arguably more difficult to measure "good quality" primary care, it's not as if there are no good ideas. Both Simon Stevens and Jeremy Hunt emphasised the importance of four key aspects of general practice within transformation during their remarks at The King's Fund: continuity of care, workforce recruitment and redesign, data sharing and IT capability, and willingness to accept new ways of working. This raises the question as to why important metrics for delivery, such as successful formation of local GP federations, or levels of primary care staff satisfaction are entirely absent from the dashboard.
Funky financials
Unsurprisingly, overall progress rankings for STPs are closely linked to financial performance, measured by proximity to system-wide control totals. NHS England's director of operations and information, Matthew Swindells, says that STP ratings are "not a judgement of the teams" but rather, "a reflection of 10, 20, 30 years of history." The control totals approach contradicts Swindells claim, by measuring financial performance simply on short-term savings. This has rewarded some areas with a history of large deficits and providers in special measures, and punished others who were starting from a position of strength, but missed their targets in the last financial year.
Time to get on board
This dashboard is telling STP leaders to get on board or get out of the way. Jeremy Hunt and his colleagues at the Treasury are committed to rewarding success, and hope that elevating pioneers will encourage several "fast followers" to come forward and fully embrace 'the only game in town'. But there are a number of challenges to overcome in the coming months, if transformation is to be a success.
While the dashboard is an NHS England document in name, the fingerprints of NHS Improvement are everywhere. Oversight from both organisations will have improved the quality of STP scrutiny, but the tension between the Department's two leading arms-length bodies was highlighted by Sir Andrew Morris last week. The Frimley STP lead suggested that shifting care into the community in Surrey would be met with less enthusiasm by an NHSI leader – known affectionately as "Jim Reaper" – with a keen eye on acute sector revenue. Such tensions can only be resolved by the Department proposing a consistent approach to NHS payment reform.
The desire in Whitehall to address the postcode lottery in the quality of care will be threatened by the approach towards transformation funding, and local MPs feeling angered by the evaluation process will vent their frustrations when parliament returns in September. Government ministers have promised further funding in the Autumn Budget, but this is unlikely to meet demand. Whitehouse analysis suggests that the first phase of capital funding represented less than 5% of the totality of funding requests from STPs, and you can bet your mortgage that HM Treasury will not fund the reminder in entirety. Furthermore, the Brexit effect now appears to be taking hold of the British economy, and fallout from the Grenfell Tower fire disaster may shift priorities away from transformation and towards addressing the safety risks of backlog maintenance. For those in the healthcare sector, Simon Steven's mid-term marker has created as many questions as answers.