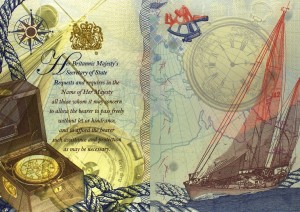 Historic yacht Gipsy Moth IV, in which Sir Francis Chichester completed his historic circumnavigation in 1967, will feature on the new UK passport launched yesterday by immigration minister James Brokenshire to celebrate British cultural heritage.
She will feature alongside the likes of William Shakespeare and modern day architect Anish Kapoor, as well as striking British creations including the Royal Observatory Greenwich, Battersea Power Station and the Titanic Belfast building, among other designs.
Gipsy Moth IV set a series of records during Sir Francis Chichester's voyage, including the fastest round-the-world voyage by a small vessel, the longest non-stop passage by a small vessel, and the then longest single-handed passage. The vessel was restored by the UK Sailing Academy in 2005 and was bought by business partners Eileen Skinner and Rob Thompson in 2010 to keep it in the UK.  Gipsy Moth IV is now owned by a charitable trust, the Gipsy Moth Trust, created to preserve her in sailing condition and promote charitable activities.
Eileen Skinner, Founder Trustee of the Gipsy Moth Trust, said:
"We are absolutely delighted that Gipsy Moth IV is featuring on the new UK passport. She is a key part of the UK's national maritime heritage and, after almost losing her to a foreign buyer not long ago, we're over the moon that she will now always, in a way, remain a fundamental part of our nation.
"Sir Francis Chichester is one of the most iconic figures in sailing history and our aim is to keep his legacy very much alive for future generations. We do hope this encourages and inspires people across the UK to visit her, sail her, and experience life aboard an essential part of maritime history"
Gipsy Moth IV is also available for private sailing experiences, the proceeds of which go towards her upkeep and maintenance. To book a charter experience please contact info@gipsymoth.uk.
The Whitehouse Consultancy is proud to have sponsored the Gipsy Moth Trust for the past three years.