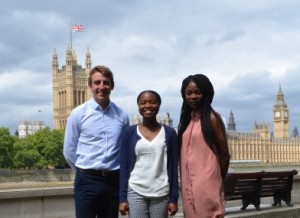 A London lobbying and communications consultancy has completed a ground-breaking positive action work experience programme, with its managing director calling for greater efforts to improve diversity in the industry by promoting politics as a career option to BME students.
Helen Munro, Managing Director of The Whitehouse Consultancy, has suggested that politics and the public relations industry must do more to promote themselves to A-level pupils and university students. The agency recently completed a paid (London living wage) work experience scheme for a London A-level student in a pilot designed to encourage young people from diverse ethnic backgrounds to consider politics as a career.
Josephine Gisanrin from The Norwood School spent four weeks over the summer with the Whitehouse team before her final year of A-levels. Miss Gisanrin, who hopes to study politics at university, worked on a range of policy areas including health and energy, while also receiving training from members of the Whitehouse team. Miss Gisanrin was selected following a formal recruitment process that was open to a range of London schools whose pupil populations consist of ethnic minorities.
Munro has suggested the lobbying industry will continue to be underrepresented by ethnic minorities if greater efforts are not made to encourage students to take an interest in politics and consider communications as a career option. An industry census conducted in 2013 by the Public Relations Consultants Association (PRCA) found 82 percent of the UK PR industry was 'white British' (nine percent 'other white', two percent 'other ethnicity', two percent 'Asian British', and one percent 'black British').
Helen Munro, Managing Director of The Whitehouse Consultancy, said:
"There's a lack of diversity in our industry that we need to address. Industry surveys have found that only six percent of staff in the public relations industry as a whole come from BME backgrounds. Work has been done to address this, but need to do more to encourage young people to consider us as a career option when they've finished their studies. Otherwise, they lose out on professional opportunities and we as an industry lose out incredible potential.
"We set up our positive action work experience programme to allow BME students to see what our industry is like. Josephine will hopefully move on in her studies not only with more on her CV, but an informed perspective on our industry and the knowledge that she can thrive in it if she wants to."
Josephine Gisanrin said:
"I hope to study politics at university and the last four weeks experience will be invaluable. I'll return to school in September with real insight into how the political system works. I would encourage sixth formers in London to apply next year."
Jeremy Cox, Head of Sixth Form at The Norwood School, said:
"We're delighted Josephine had this opportunity. Politics is a difficult sector to enter, and more so for young people from ethnic minorities. We very much welcome The Whitehouse Consultancy's efforts to promote diversity in their industry. The programme they've run is presenting opportunities to students who might otherwise find themselves knocking on a locked door. We look forward to next year's programme and will be encouraging our pupils to apply.
The Whitehouse Consultancy also works with the Lilian Baylis Technology School in Lambeth to promote interest in politics amongst its pupils by running the school's debating society and political guest speaker programme.