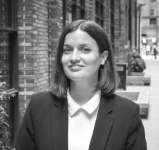 Andrea Gutierrez-Solana
Associate Director
+44 (0)20 3855 5760
Andrea advises clients on a range of issues including agri-food regulations and public health policy, EU public affairs and Brexit.
Andrea joined Whitehouse having previously worked for a Brussels based law firm specialised in trade and agri-food regulatory matters and having gained experience in the European Commission's Directorate-General for Trade, where she worked on food safety and market access files.
She holds a dual bachelor's degree in Law and Political Science & Public Administration and a Master's in European Union Law, and is fluent in Spanish and English, with an intermediate knowledge of French.
Posts by Andrea Gutierrez-Solana