After months of eager anticipation, the finalists for the European Specialist Sports Nutrition Awards (ESSNawards) 2021 have been announced!
The shortlist reveals the sports nutrition brands, organisations and products in with a chance of being crowned the best in class at Europe's premier sports nutrition awards ceremony, taking place virtually on Thursday, 9 December.
The ESSNawards, organised in partnership with the European Specialist Sports Nutrition Alliance (ESSNA) and Whitehouse Communications, celebrates innovation and success in the sports and active nutrition industry, highlighting key developments and successes such as new, cutting-edge ingredients, strides in sustainability and trailblazing newcomers.  
Last year's virtual ceremony had over 90 attendees, including more than forty sports nutrition brands from all over Europe, competing for 11 hotly contested categories. Click here to watch the highlights of our 2020 ceremony. 
Now in its third year, the ESSNawards boasts a range of new categories, from showcasing industry innovations in "free-from" brands to great leaps in beginner-friendly products. The ceremony will also host our previous, highly competitive favourites, celebrating the best in class in protein bars, shakes and post-workout products.  
Tickets to the event will include access to the virtual ceremony, insightful presentations and key industry workshops, exclusive materials and offers, a digital goodie bag, e-networking opportunities and a drink of your choice delivered to your home!  
Sponsorship opportunities for the ceremony remain open, offering brands the chance to enhance their profile, communicate to target audiences and interact with sports nutrition professionals including nutritionists, journalists, practitioners and sportspeople. 
Click here to secure your place at sports nutrition's biggest awards event of the year!  
Check out the full shortlist for the ESSNawards 2021 below.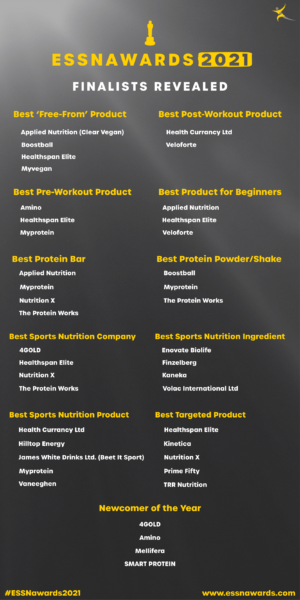 Political consultancy 
The Whitehouse team are expert political consultants providing public relations and public affairs advice and political analysis to a wide range of clients, not only in the United Kingdom, but also across the member states of the European Union and beyond. For more information, please contact our Chair, Chris Whitehouse, at chris.whitehouse@whitehousecomms.com.