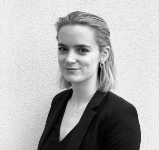 Rachel King
Consultant
+44 (0)20 3855 5760
Rachel is a consultant in the media and public relations team supporting clients in the health, nutrition, social care and human rights sectors to achieve their goals through integrated media and communications strategy.
A trained journalist, Rachel worked across communications strategy, branding and media projects for a national charity before joining Whitehouse. She also has extensive experience researching and advising on the use of social media and thought leadership for brands and campaigns.
Rachel graduated from the University of Leeds with a BA in Classics and English and also holds an MA in Journalism from Goldsmiths College. Her extended project for her Masters assessed the viability of social media as a tool for reporting disasters and conflict. When she's not at work, Rachel plays rugby or plans trips to anywhere that she can ski, swim or hike.