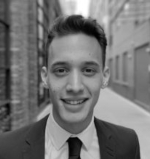 Jordan Newfield
Account Manager
+44 (0)20 3855 5760
Jordan is an Account Manager, supporting the UK public affairs team with political intelligence and insights, working across the health, education and food and nutrition sectors.
Previously, Jordan worked as a policy researcher for a communications software company, working with a number of government bodies, charities and trade associations – supporting clients through insights into political developments and horizon scanning.
Jordan graduated from the University of Nottingham with a BA in Politics and International Relations. Outside of work, Jordan enjoys watching football, listening to music and trying new food.