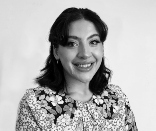 Ella Harvey
Account Manager
With years of experience in regulation, energy and social justice policy, Ella supports the UK Public Affairs team to offer strategic advice and political intelligence to clients.
Previously, Ella worked at the Department for Digital, Culture, Media and Sport where she advised Ministers on online harms. She has also held public affairs roles in charities, an agency and a local authority where she has led decisive national and regional campaigns: delivering policy aims through effective interventions.
Ella graduated from Queen Mary University of London with a BA in History. In her spare time, Ella enjoys weightlifting and tending to her (excessive) collection of house plants.